</P>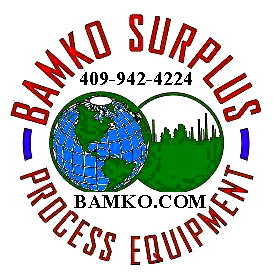 BAMKO-SURPLUS
serving the petro-chemical industry in surplus sales and investment recovery
Contact: BAMKO-SURPLUS
Phone: 409-942-4224
Fax:409-942-4321
Email: Bill J Ketenbrink bill@bamko.com
Office & Yard: 1812 Texas Ave. Texas City, TX 77590





VISIT OUR NEW USER FRIENDLY WEB PAGE AT BAMKOSURPLUS.COM

WHAT WE DO:
BAMKO-SURPLUS
buys sells, and brokers surplus process equipment from the petro-chemical and engineering industry. Types of items we buy, sell, and broker are:
Heat Exchangers
Vessels
Tanks
Pipe
Valves
Boilers
Furnaces
Furnace tubes
Pumps
Turbines
Compressors
SORRY NO COMPLETE UNITS AVAILABLE AT THIS TIME HOWEVER IF YOU HAVE A COMPLETE PROCESS UNIT AVAILABLE FOR SALE PLEASE CONTACT US.
Let BAMKO-SURPLUS advertise your process equipment on our WWW Internet page. Email your equipment list to
bill@bamko.com

BAMKO-SURPLUS

will also do the dismantling of your process plant or unit.

For

ANY and ALL your surplus process equipment, contact:
BILL J. KETENBRINK at (800) 816-8520.

BAMKO-SURPLUS INVENTORY PAGES WITH PICTURES

HOT LINKS
POWER EQUIPMENT PAGE
INSTRUMENTATION & METERS PAGE
CONTROL VALVE PAGE
DRUMS, TANKS & VESSEL PAGE
HEAT EXCHANGER PAGE
LAB EQUIPMENT PAGE
PROCESS EQUIPMENT PAGE
PUMP PAGE
LAB GLASSWARE PAGE
BEARINGS PAGE
VALVE PAGE
PROCESS PLANTS AND EQUIPMENT PAGE
DOMAIN NAMES FOR SALE PAGE
MISC. EQUIPMENT INCLUDING DORMAT STOCK PAGE
MISC. EQUIPMENT POWER CORDS AND CABLES
MISCELLANEOUS LABORATORY EQUIPMENT

Email
bill@bamko.com
US-Mail:
204 17th Ave. North
Texas City, Texas 77590
WHERE TO CALL US:
OFFICE AND YARD 1812 TEXAS AVE. TEXAS CITY, TX. 77590 OFC (800) 816-8520
OFC (409) 942-4224
FAX (409) 942-4321
MOBIL (409) 761-0189
PAGER(713) 919-6725
RES (409) 945-5242

Site created by
Bill J. Ketenbrink
bill@bamko.com
.............THANK YOU FOR VISITING YOU ARE THE.....

Free counters provided by Andale.


............................VISITOR SINCE 10/18/02...................

bamko.gif is a registered trade mark of Bamko-Surplus